Trinity Restaurant in New Orleans shared another tequila recipe. They originally passed this recipe over to me in celebration of National Tequila Day. Thank you, guys! This drink, called the Placeholder, was made by the bars beverage director Adam Orzechowski. The cocktail uses Cimarrón tequila, Pamplemousse, Granny Sherry, lemon, and a La Source Cabernet Float.
Now I just need to be back in New Orleans sitting at a pool in a courtyard. I could easily be sipping on a few of these while the kids swim. What about you?
Placeholder Cocktail
1.5

oz

Cimarrón Tequila

.5

oz

Pamplemousse liqueur

.75

oz

Grany Sherry

1

oz

lemon juice

La Source Cabernet Float
Mix first four ingredients in shaker with ice. Pour in rocks glass and top with Cabernet floater.
---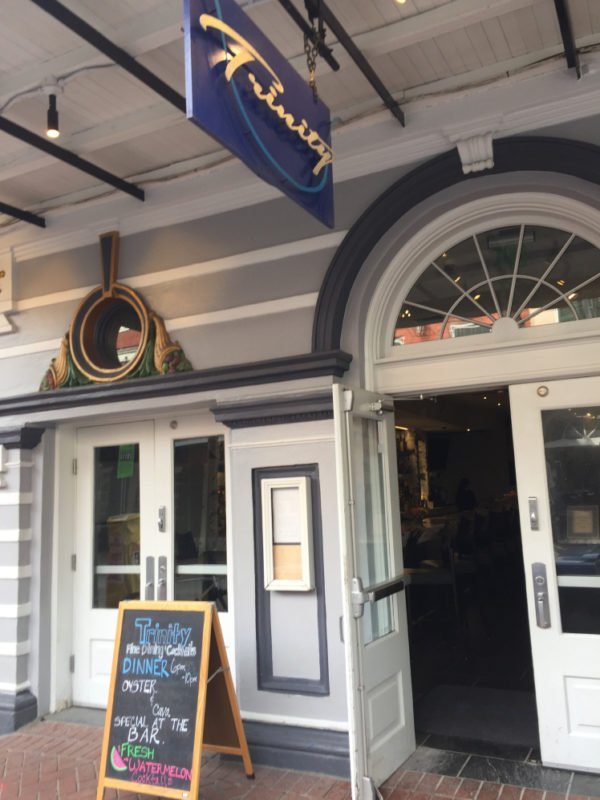 When you are in the French Quarter, make sure that you stop at Trinity Restaurant. They are located at 1117 Decatur Street. Dinner is served nightly, Sunday – Thursday 6 PM – 10 PM; Friday and Saturday 6 PM – 11 PM. Happy Hour is Sunday through Friday from 4:30 PM – 7 PM and Fridays and Saturdays from 10 PM-Midnight.
Reservations can be made at www.opentable.com or by telephone: (504) 325-5789; For more information on Trinity Restaurant and to view their menu, please visit www.trinityrestaurantneworleans.com.
---
If you enjoyed this article, please subscribe to the Red Beans & Eric Newsletter so you don't miss a recipe, interview, or review. And by signing up, I'll send you a free e-cookbook that includes some of the most popular recipes found here on the website.
You can always stay in touch with me by leaving a comment in the section below, by clicking here or messaging me on any of the social media sites that I am on. If you take a photo of any of the recipes that I've shared here, please tag it using #RedBeansAndEric so I can find it!
Thank you for stopping by!
Keep the red beans cookin'!
Eric