There is no better red beans and rice recipe than the homemade pot that I love to cook up on a Monday night. It's hearty. It's smoky. This is comfort food at its finest. Popeyes Louisiana Kitchen has some excellent red beans, but it does not compare to my amazing homemade version.
There's something special about a creamy, comforting pot of red beans slowly simmering on the stove on a Monday. It's a classic New Orleans tradition that has been going on for over a century and if you head into any restaurant or bar that serves food –or household for that matter– you'll more than likely find red beans and rice being served.
Monday was traditionally when one would do the laundry back in the day. The woman needed a dish that could be set to cook and left unattended while they were busy scrubbing the clothes. A pot of beans slowly simmering was the perfect answer.
But that begs the question: Why was Monday wash day?
The Sunday supper usually consisted of a ham. The following day, with the leftover ham bone needing to be used, beans were the cheap perfect solution to use up that extra meat and bone. And since the beans needed to be slowly cooked, Monday became the day where there was plenty of time to get something done like the laundry.
In a previous article, Red Beans and Rice with New Orleans Heart and Soul, I've mentioned how I learned to make red beans through trial and error. I didn't have a family member here to teach me the ways around the kitchen and impart the secrets and tips to perfect beans. I've learned everything through books, forums, magazines, talking to those who know, and just by cooking and playing around with ingredients. Over the years, I've developed what I think is an amazing recipe.
At some point I want to start doing those Monday night get together Pableaux Johnson does. Johnson's a New Orleans based writer and photographer who is well-known for his open-door Monday night suppers with red beans and rice as the starring role on the menu. Friends arrive and you talk and you eat red beans.
On occasion, he even travels the country doing a Red Beans and Rice Roadshow. Be sure to look him up and attend if he's ever in your area but watch out, they sell out fast. If I ever start doing something like that (not the roadshow part), this would be the red beans and rice recipe that I'd serve because this is the recipe I cook most Mondays.
Mondays may not be the day that I catch up on the household chores and laundry like they did in the past but the tradition of cooking the beans still means something to me. The dish isn't about laundry now -if it ever really was- but more about a community food. People gather for red beans. You don't make a single bowl of red beans, you make a pot. It's about people coming together and celebrating as one.
Red beans and rice is a special meal to me. This recipe is special to me. These are the beans that I sit over on a Monday night. They seem to make everything better, at least for that moment. They are hearty, spicy, and have that smoky flavor that sticks with you well after that last bite.
That's why I say that this Amazing Homemade Red Beans and Rice recipe is better than Popeye's! It's made from the heart for family. These beans are made to be apart of a tradition.
I invite you to pull up a chair and join me around my table as the red beans are cookin'!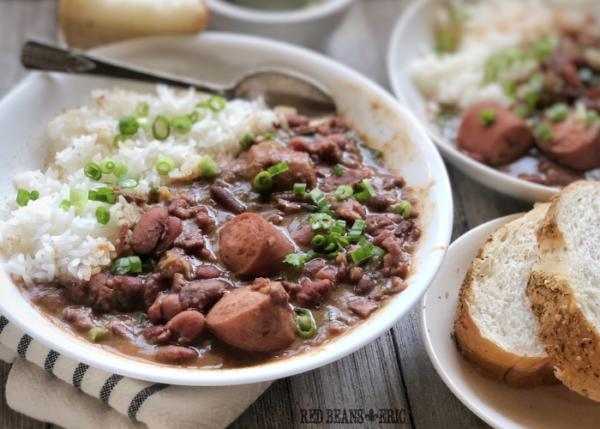 Amazing Homemade Red Beans & Rice that is Better Than Popeyes
There is no better red beans and rice recipe than the homemade pot that I love to cook up on a Monday night. It's hearty. It's smoky. This is comfort food at its finest.
Added Time for Creaminess
1
hour
Total Time
4
hours
10
minutes
Ingredients
6

pieces

of smoked bacon

chopped into small pieces - save all that bacon fat!

2

cups

smoked ham

chopped into small pieces

2

small sweet onions

diced

1

green bell pepper

seeded and diced

1

cup

celery

diced

1

cup

green onions

diced

1/4

cup

garlic

minced

1

lbs

smoked sausage

cut into 3-inch pieces

2

tbsp

dried parsley

2

tsp

dried thyme

1

tsp

dried basil

1

tsp

rubbed sage

1

tsp

cayenne pepper

1/2

tsp

white pepper

1

lbs

dried red beans

soaked in water overnight and drained

4

bay leaves

1

lbs

smoked ham hocks

Water to cover beans

about 8 cups

salt and pepper

to season (I used 1-1/2 salt and 1/2 tsp black pepper)

1

tbsp

Louisiana hot sauce

green onions for garnishment

1

cup

hot cooked jasmine rice
Instructions
In a large pot over MED-HIGH heat, cook the chopped pieces of bacon to render the fat out and they have started to brown, about 5-minutes.

Add the smoked ham, onions, bell pepper, celery, green onions, and garlic and saute until the trinity has become tender and the onions are translucent, about 10-minutes.

Add the smoked sausage to the pot along with all of the seasonings: parsley, thyme, basil, sage, cayenne pepper, and white pepper. Stir everything together making sure the seasoning is spread around. Add the red beans to the pot and continue to stir the contents so everything is well mixed together. Keep stirring for about 3-minutes.

Pour water into the pot making sure that the beans are covered by about 2-inches of water; I used 8 cups of water. Tuck the ham hocks into the pot and add the bay leaves.

Bring the pot to a rolling boil over MEDIUM heat and allow to cook for 30-minutes; stir occasionally to prevent the beans from sticking to the bottom of the pot.

Reduce heat and allow the beans to simmer until you've reached your desired creaminess. I cooked my red beans for about 2 1/2-hours.

About 30-minutes before serving, season to taste. I used about 1 1/2-teaspoon salt and 1/2-teaspoon black pepper. Add the 1 tablespoon shot of Louisiana hot sauce - or any hot sauce that primilary uses vinegar as an ingredient.

As I'm stirring the red beans, I tend to mash some of the beans against the side of the pot to help create that creaminess.

Once the beans are at the right creaminess and the seasoning seems right, they are ready to be served of cooked hot rice. Lately, I've been using jasmin rice. I like the added flavor that that rice brings. I garnish with green onions and sprinkle the beans and rice with some Creole Seasoning. Serve more hot sauce at the table. Don't forget the warm French bread! Enjoy!
Here's how I put together this amazing homemade pot of red beans and rice:
First things first, to get the flavor and the smoky base that you'll crave later on, you need to start with bacon fat from a smoky cut. I usually save the rendered fat when I make bacon for breakfast or BLT's and store it in a container in the freezer until it's time to make a pot of beans. But I go through the bacon fat fast, too fast sometimes.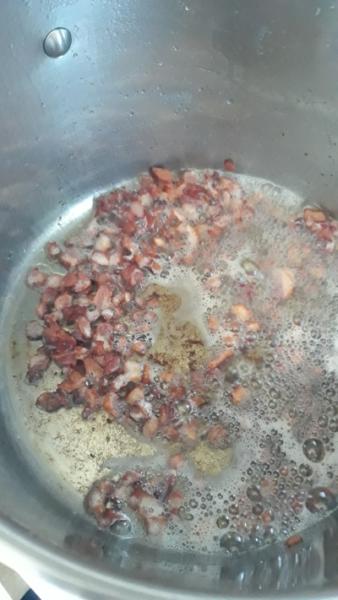 The quickest and easiest way for me to render fat is to chop up about 6 pieces of smoked bacon and cook it down. I usually get the thick cut. This will give you the perfect amount of fat and base of smoky flavor you need for an amazing pot of beans.
If you don't want that much fat in the pot, use fewer slices. If you want to be on the healthier side, which I've tried, use a couple of tablespoons of olive oil instead.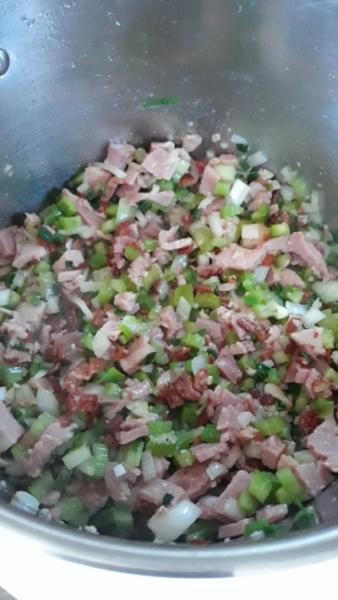 Add the smoked ham, the trinity, and garlic to the pot and saute until the vegetables are tender.
Add the cut pieces of smoked sausage and the seasoning to the pot. Sometimes I'll even add a pinch of crushed red pepper flakes for that added heat.
Place the red beans in the pot, pour in the water, drop in the bay leaves, and carefully nestle the ham hocks in with the beans.
I get the pot to a rolling boil and let it cook like this for 30-minutes; be sure to stir the pot every-once-in-awhile so the beans don't get scorched in the bottom of the pot. I've done it before. Not good!
After the 30-minutes, reduce heat to a simmer and let the beans cook down until you get the creaminess that you like. It could take two, three, or four hours. Don't rush it. I cook mine for about 2 1/2 hours. With about 45-minutes or so remaining in the cooking process, I take the ham hocks and the bay leaves out.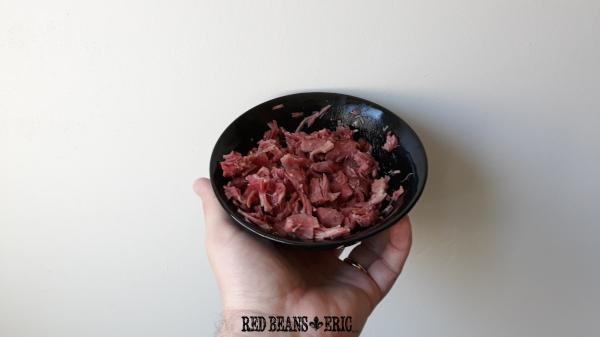 This is the meat I got off the 1 1/2 pounds of ham hocks. Put it back in the pot.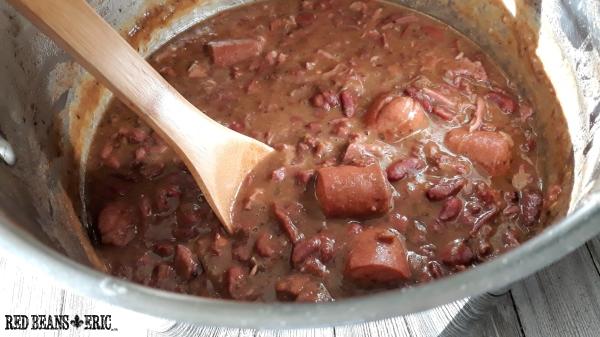 I start mashing beans against the side of the pot and adjusting the flavors. I add salt and pepper and the shot of hot sauce. Sometimes, if I want to boost the heat and flavor, I'll add a teaspoon or two of Creole Seasoning. Use whatever your favorite is. I've been using Slap Ya Mama Cajun Seasoning.
Here's my pot of amazing homemade red beans. The creaminess is perfect. The flavors are perfect.
Normally I use a long grain white rice. The past few weeks I served jasmine rice with the beans and really enjoyed it. I like that added flavor the jasmine rice offers.
As I've said in the past: red beans and rice is a community meal. Get a couple of bowls served up, pass the warm French bread, and offer extra hot sauce at the table. Enjoy!
---
Thank you for reading!
If you enjoyed this article, please subscribe to the Red Beans & Eric Newsletter so you don't miss a recipe, interview, or review. By signing up, I'll send you a free e-cookbook that includes some of the most popular recipes from the website.
You can always stay in touch with me by leaving a comment in the section below, by clicking here or messaging me on any of the social media sites that I am on.
Thank you for stopping by!
Keep the red beans cookin'!
Eric
Eric Olsson is the food blogger of RedBeansAndEric.com. He publishes new recipes and interviews weekly. He has developed recipes and written articles for the famous Camellia brand in New Orleans, Louisiana. He has been mentioned in Louisiana Cookin' magazine and has had recipes featured in Taste of Home magazine – with his Creole Turkey recipe being runner up in their annual Thanksgiving recipe contest. He lives outside of Detroit, Michigan, with his wife and four children.