Robert Medina wrote an outstanding cookbook with If You Can't Stand the Heat: A New Orleans Firefighter's Cookbook. His cookbook is filled with 187 recipes and stories from inside of the firehouse.
I can tell you that I have a pretty big collection of New Orleans, Creole, Cajun, and Southern cookbooks. Too many if you ask my wife. I can honestly tell you that this is one of my favorite books. I've never gone through a cookbook and earmarked so many recipes (I really use post-it notes to bookmark each recipe, I never earmark books, that's cruel).
The first section of the cookbook is loaded with sauces, stocks, and seasonings. One of the greatest recipes in the book is Medina's Firehouse Flashover Seasoning. If you love to make your own homemade Creole seasonings, this is for you. For a while Medina sold this pre-bottled Flashover Seasoning in stores but now the only way to get this great blend is to make it at home yourself.
There's also a variety of stocks, tomato based sauces, dressings, and more.
The next section is all about soups, salads, and sandwiches. This is one of my favorite parts of the book since it includes the gumbos, a messy po-boy, the etouffee, the olive salad for a muffuletta, and Medina's red beans and rice recipe.
The red beans and rice recipe that is the book, Red Beans the Right Way, Medina is sharing here with the recipe below. Thanks again! You'll also find Red Beans the Lite Way in the book if you're looking for all of the flavor but none of the fat.
For the next part of the book, you'll get the appetizers, sides, and snacks. All kinds of rice recipes: Mexican style, Dirty Rice, Fried Rice. There's coleslaw recipes, baked beans, mac and cheese, mini muffulettas, smothered okra, smothered potatoes, Chinese pork ribs, and so much more.
Entrees is where it's at. Chicken and Andouille Jambalaya. Cajun Cordon Bleu. Stewed Chicken. Deep Fried Turkey. Lasagna. Fried Meatballs. Veal Stuffed Bell Peppers. Chuck Pot Roast with Debris and Gravy. Roasted Garlic Butter Steak. Rabbit Tchoupitoulas. Barbeque Shrimp. Banana Foster Stuffed Pain Perdu.
This is the only way I can do this book justice. Check out the table of contents yourself. If you're on mobile, zoom in for a better look.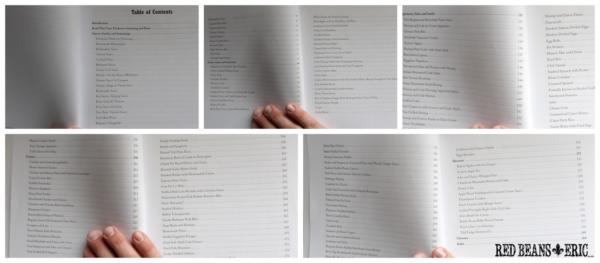 Then, to close the book out, there are over ten desserts to choose from in case you hadn't eaten enough already.
As you can see, there is a huge variety of recipes to make. One of the best parts of the book – something a lot of books that I've come across miss – is that Medina made these recipes easy to follow. Everything is so well written out that it is hard to get lost in the instructions. Some books are so impossible to understand, but not this one. Most recipes have 'notes' to guide you along, or 'another note' to further explain it out.
Another perk Medina has done with the instructions, is to add stories within it. As an example, in the directions to Shirley's Deviled Eggs recipe, he goes into Chow Chow in New Orleans and how growing up his family used Zatarain products. It all goes perfect with the recipe and Medina's storytelling style.
In fact, that's one of the strengths of this book: Medina's storytelling. The collection and variety of recipes is amazing, but what will stay with you is his storytelling. You go in reading a recipe, but then you're drawn into his world and life at the firehouse. It's great.
If you don't own a copy of If You Can't Stand the Heat: A New Orleans Firefighter's Cookbook by Robert Medina, you're missing out on one of those rare cookbooks that is outstanding from cover-to-cover. I promise.
Do you own this cookbook? Let us know your thoughts on it and what your favorite recipes are in the comment section below.
Robert Medina's Red Beans the Right Way
Red Beans the Right Way is from Robert Medina's If You Can't Stand the Heat: A News Orleans Firefighter's Cookbook. Used with permission.
Ingredients
2

pounds

of dried Camellia red beans

4

large onions

diced

1/2

cup

of celery

diced

6

cloves

of garlic

finely chopped

3 32-

ounce

containers of chicken stock

6

cups

of water

1

pound

of pickle meat

diced

1

pound

of hot smoked andouille sausage (cut

into small pieces)

4

small smoked ham hocks

1/4

cup

of fresh parsley

chopped

1

cup

of green onions

chopped small

2

whole bay leaves

Fresh-ground pepper

Dash or two of Tabasco

Cooked white rice
Instructions
Before you start, there are a few ground rules:
First, you will notice that there is no salt in this dish. That's because there is so much salt in all of the meats and the stock that any more would be too much.

Second, check and stir them often … maybe even more than often. They like to be cooked over a low fire and really slow. And last but not least, people like their beans different ways. Some like them runny, and some like them thick. If you're a thick bean person, here's what you do: In the last half hour or so during the cooking process, mash a few beans along the inside of the pot with the back of a spoon. Scrape them off of the sides and mix them in. The more you mash, the thicker the beans will get.

The first thing to do is to put all of the chicken stock in a large pot along with the ham hocks. Let that simmer uncovered until the meat is ready to fall off the bone. This may take awhile, so be prepared. It may take from an hour to ninety minutes, depending upon the ham hocks, so begin it as early as you can. When done, remove the ham hocks to a plate to cool and save the stock. Add the beans to the hot stock and bring to a boil; then turn it down to a simmer.

The next step is to put your sausage and pickle meat in a non-stick frying pan and turn up the heat. You want to render some of the meat flavors and juices into the skillet. When the pickle meat is cooked through, remove both meats from the pan and add them to the bean pot. Put your onions, parsley, green onions, and celery into the frying pan with the meat juices and cook them until the onions become translucent. Add the garlic and fresh-ground pepper. Two minutes after you add the garlic and fresh-ground pepper, pour the mixture into the pot with the beans.

Break the meat from the ham hocks into bite-size pieces and put it all in the pot along with the six cups of water. Add bay leaves and a good shot of Tabasco. Turn the fire down low and cover. Stir the beans often and make sure they don't stick to the bottom of the pan.

Once all of the ingredients are in the pot, cooking time is usually about two and a half to three hours. I hate to be redundant, but … stir a lot.

After the allotted time has passed, the beans should be very soft. If not, cook them a while longer until they are. If they get too thick, add more water. Some dried beans are just harder than others and take longer to break down. Once you have cooked them for a while, you will be able to judge how thick you want them. Just try a couple of beans to make sure they are all cooked through and soft; then mash or don't mash to get your proper thickness.

When they are done, serve over cooked white rice.
---
This article contains affiliate links to Amazon.
---
To read more about Robert Medina and his other books, check out my How Do You Red Bean? interview I did with him.
---
Thank you for reading!
If you enjoyed this article, please subscribe to the Red Beans & Eric Newsletter so you don't miss a recipe, interview, or review. By signing up, I'll send you a free e-cookbook that includes some of the most popular recipes from the website.
You can always stay in touch with me by leaving a comment in the section below, by clicking here or messaging me on any of the social media sites that I am on.
Thank you for stopping by!
Keep the red beans cookin'!
Eric
Eric Olsson is the food blogger of RedBeansAndEric.com. He publishes new recipes and interviews weekly. He has developed recipes and written articles for the famous Camellia brand in New Orleans, Louisiana. He has been mentioned in Louisiana Cookin' magazine and has had recipes featured in Taste of Home magazine – with his Creole Turkey recipe being runner up in their annual Thanksgiving recipe contest. He lives outside of Detroit, Michigan, with his wife and four children.