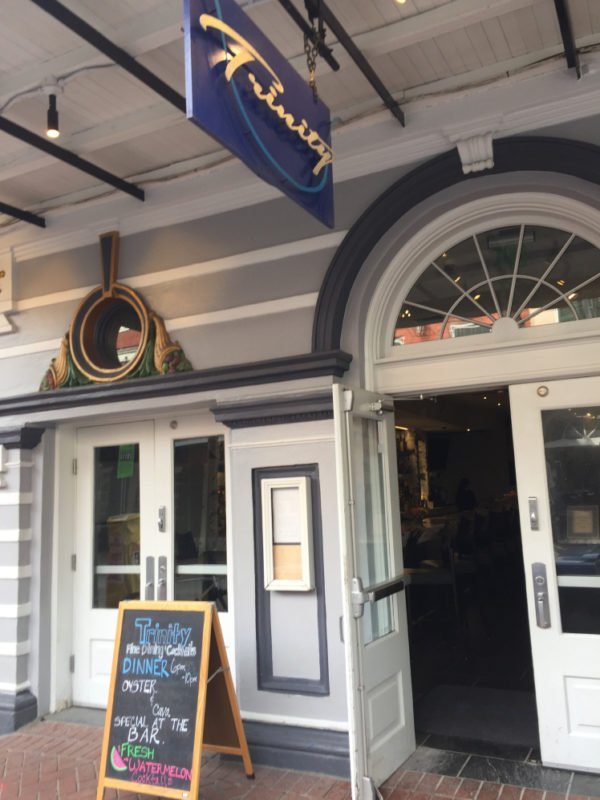 Trinity Restaurant, one of lower Decatur Street's hottest spots, has been named by Conde Nast Traveler and OpenTable as one of the best places to eat and drink in New Orleans. Conde Nast Traveler calls it the 'Best Fancy-But-Not-Fussy Creole Food' in 'the Quarter'. They go on to say that the culture and flavors collide at Trinity. And that's what you'll find there – an authentic New Orleans dining experience along with modern touches. They focus on locally sourced ingredients to create imaginative dishes.
Trinity is also one of the top-notch bars in New Orleans and you will always find specials and specialty drinks. For National Tequila Day, they offered the Garden Margarita by beverage director Adam Orzechowski. This cocktail is made with Exotico tequila, jalapeño peppers, tarragon syrup, Pernod, Ancho Reyes, lime, lemon, tarragon garnish and a salt/sugar rim.
Trinity Restaurant is kind enough to share that recipe here for you to enjoy at home.
Garden Margarita
Ingredients
1.5

oz

Exotico Tequila / muddled with one slice of jalapeno

remove seeds from jalapeno

.5

oz

.Tarragon Syrup

.5

oz

.Pernod

.5

oz

Ancho Reyes chili liqueur

1

oz

lime juice

.5

oz

lemon juice

Tarragon Garnish

Sugar/Salt rim
Instructions
Place all liquid ingredients in a shaker with ice and shake vigorously. Strain into sugar/salt-rimmed margarita glass. Garnish with a sprig of tarragon.
---
When you are in the French Quarter, make sure that you stop at Trinity Restaurant. They are located at 1117 Decatur Street. Dinner is served nightly, Sunday – Thursday 6 PM – 10 PM; Friday and Saturday 6 PM – 11 PM. Happy Hour is Sunday through Friday from 4:30 PM – 7 PM and Fridays and Saturdays from 10 PM-Midnight.
Reservations can be made at www.opentable.com or by telephone: (504) 325-5789; For more information on Trinity Restaurant and to view their menu, please visit www.trinityrestaurantneworleans.com.
---
If you enjoyed this article, please subscribe to the Red Beans & Eric Newsletter so you don't miss a recipe, interview, or review. By signing up, I'll send you a free e-cookbook that includes some of the most popular recipes found here on the website.
You can always stay in touch with me by leaving a comment in the section below, by clicking here or messaging me on any of the social media sites that I am on. If you take a photo of any of the recipes that I've shared here, tag me on it using #RedBeansAndEric so I can see it!
Thank you for stopping by!
Keep the red beans cookin'!
Eric
Eric Olsson is the food blogger of RedBeansAndEric.com. He publishes new recipes and interviews weekly. He has developed recipes and written articles for the famous Camellia brand in New Orleans, Louisiana. He has been mentioned in Louisiana Cookin' magazine and has had recipes featured in Taste of Home magazine – with his Creole Turkey recipe being runner up in their annual Thanksgiving recipe contest. He lives outside of Detroit, Michigan, with his wife and four children.