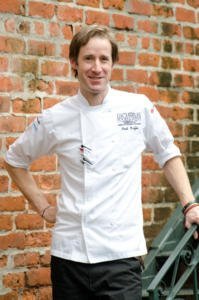 West Bank native Brett Duffee has been cooking since he was just a boy. He would help peel shrimp and boil crawfish at his father's bar along with making po'boys, gumbo, or anything to help. Eventually, Brett made his to Memphis, TN. There he took a job as a dishwasher at a restaurant. While working one day, he overheard two guys fighting over how to correctly make a pot of gumbo. Remembering that Brett was from New Orleans, the cook asked him to make the gumbo that night. Brett did and was offered a job as a line cook. At that moment, Duffee knew that his calling was to become a chef.
During his time in Memphis, Duffee worked at multiple restaurants before he made the move back to New Orleans. That experience lead him to landing a job at one of the most influential and iconic restaurants in New Orleans, Bayona. Bayona, which is owned by Chef Susan Spicer, has recently celebrated its 25th Anniversary making it a culinary landmark in the French Quarter. Duffee was with the restaurant for over five years earning acclaim as the Chef de Cuisine.
As a self-taught cook, Duffee has come a long way. His cooking style reflects on the memories of cooking as a child. He brings with him the culinary culture and tradition of southern Louisiana he grew up with along with all the tastes and flavors that he was exposed to him when distant friends and family members would come visit and cook for his family. He is continually being praised for his creativity and uniqueness as he prepares meals that are inspired by cuisines all over the world.
Where's your favorite place to order red beans and rice?
The point. A luncheonette by the Harvey locks on 4th street. Darlene is the boss with the hot sauce. West bank is the "best bank".
Do you put any unique ingredients in your pot of red beans?
We do one bag of dry to one can of Camellia red beans at house. Makes em super creamy but you have to smash them against the side of the pot with the back of your spoon. Secret ingredient is pickled pork and pepper vinegar, and a smidgen of butter.
What do you eat with red beans and rice?
An absurd amount of green onions. Fried duck livers and/or T-Money's andouille
Do you only eat red beans and rice on Mondays?
Usually we make red beans on Sunday and eat Monday, Tuesday, Wednesday till they are gone.
What are you currently working on?
Currently the Chef de Cuisine at Seaworthy at the Ace Hotel. 630 Carondelet Street in New Orleans.
---
You can stay up-to-date with Chef Brett Duffee by following him on Facebook at https://www.facebook.com/brettduffee.
---
This interview was originally published on October 11, 2015. Photo credits go to StarChef.com and NOLA.com respectfully.
---
Thank you for reading!
If you enjoyed this article, please subscribe to the Red Beans & Eric Newsletter so you don't miss a recipe, interview, or review. By signing up, I'll send you a free e-cookbook that includes some of the most popular recipes from the website.
You can always stay in touch with me by leaving a comment in the section below, by clicking here or messaging me on any of the social media sites that I am on.
Thank you for stopping by!
Keep the red beans cookin'!
Eric
Eric Olsson is the food blogger of RedBeansAndEric.com. He publishes new recipes and interviews weekly. He has developed recipes and written articles for the famous Camellia brand in New Orleans, Louisiana. He has been mentioned in Louisiana Cookin' magazine and has had recipes featured in Taste of Home magazine – with his Creole Turkey recipe being runner up in their annual Thanksgiving recipe contest. He lives outside of Detroit, Michigan, with his wife and four children.