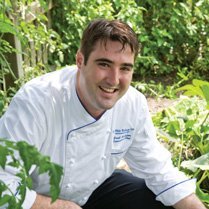 Everyone knows of the great restaurants to grab lunch and dinner in and around New Orleans. Brad McGehee created a restaurant that fills a void: a great place to get breakfast or lunch with the Blue Line Sandwich Company. The former Ritz Carlton sous chef and Ye Olde College Inn chef opened the breakfast and lunch spot at 2023 Metairie Road in Metairie.
McGehee told NOLA.com that, "We're going to do local, farm-to-table style. That's just my style." He went on to say, "I've always been passionate about breakfast." His passion and experience at some of New Orleans finest restaurants show in his menu. You'll find: Duck-Duck-Goose Waffles, a Belgian waffle with a confit duck and sweet potato hash topped with foie gras butter and a fried duck egg topped with powdered sugar and cane syrup. There is also the Blue Line Breakfast Panini, a Broken Yolk Sandwich, and the Cochon de lait Biscuit, which is slow-cooked pork and a grilled tomato served on a biscuit smothered in a red-eye gravy and topped with a fried egg.
For lunch you'll find plenty of great sandwiches, including the St. Patty's Day Massacre, housemade corned beef, duck pastrami, Abita braised cabbage and a remoulade aioli on marble rye. McGehee serves the classic grilled cheese sandwich with three cheeses and caramelized onions on a sourdough bread with tomato soup. There is also a Tomato and Basil soup and a Duck and Mushroom Gumbo among plenty of other choices.
You can find the full menu for breakfast and lunch here. You can also expect the menu to grow in the future. There are daily and weekend brunch specials and a Bloody Mary Bar. After looking at the menu, you'll notice how everything is made with locally produced products. Everything is fresh, many items are house-made and made with the highest quality of ingredients.
With all the high praise already coming in for the Blue Line Sandwich Company, you can tell that McGehee loves his breakfast. It shows in the presentation and quality of the food that he's serving. New Orleans food critic, author and radio host, Tom Fitzmorris said, "I expect this is going to be a very good place."
Now, when you're in New Orleans, and you need a spot for great breakfast, you know to go to the Blue Line Sandwich Company in Metaire.
Where's your favorite place to order red beans and rice?
Bevi Seafood. I know it's weird to order red beans at a seafood shop, but they're outstanding!
Do you put any unique ingredients in your pot of red beans?
I like to use smoked turkey necks in mine. Definitely dried beans. Never canned.
What do you eat with red beans and rice?
Boudin goes great with red beans. "The Best Stop" in Scott, Louisiana makes the best boudin and their beans are great too. It's a must try if you're ever close by.
Do you only eat red beans and rice on Mondays?
Usually I cook for a traditional Monday meal, but leftovers are always good on Tuesday, Wednesday, Thursday…
What are you currently working on?
My wife and I have been consumed with opening our new restaurant, Blue Line Sandwich Company. There are a lot of nuances that go into a new restaurant that I never realized until now. It's a lot of work but very rewarding.
---
For up-to-date information on McGehee and the Blue Line Sandwich Company, you can follow them on your favorite social media sites along with their website: www.BlueLineSandwichCo.com.
The Blue Line Sandwich Co. is located at 2023 Metairie Road in Metairie. You can follow the above link to their website for all current menu options, or by calling them at (504)309-3773.
---
(photo are from www.bluelinesandwichco.com and Facebook respectively)
The article was originally published February 15, 2015.
---
Thank you for reading!
If you enjoyed this article, please subscribe to the Red Beans & Eric Newsletter so you don't miss a recipe, interview, or review. By signing up, I'll send you a free e-cookbook that includes some of the most popular recipes from the website.
You can always stay in touch with me by leaving a comment in the section below, by clicking here or messaging me on any of the social media sites that I am on.
Thank you for stopping by!
Keep the red beans cookin'!
Eric
Eric Olsson is the food blogger of RedBeansAndEric.com. He publishes new recipes and interviews weekly. He has developed recipes and written articles for the famous Camellia brand in New Orleans, Louisiana. He has been mentioned in Louisiana Cookin' magazine and has had recipes featured in Taste of Home magazine – with his Creole Turkey recipe being runner up in their annual Thanksgiving recipe contest. He lives outside of Detroit, Michigan, with his wife and four children.