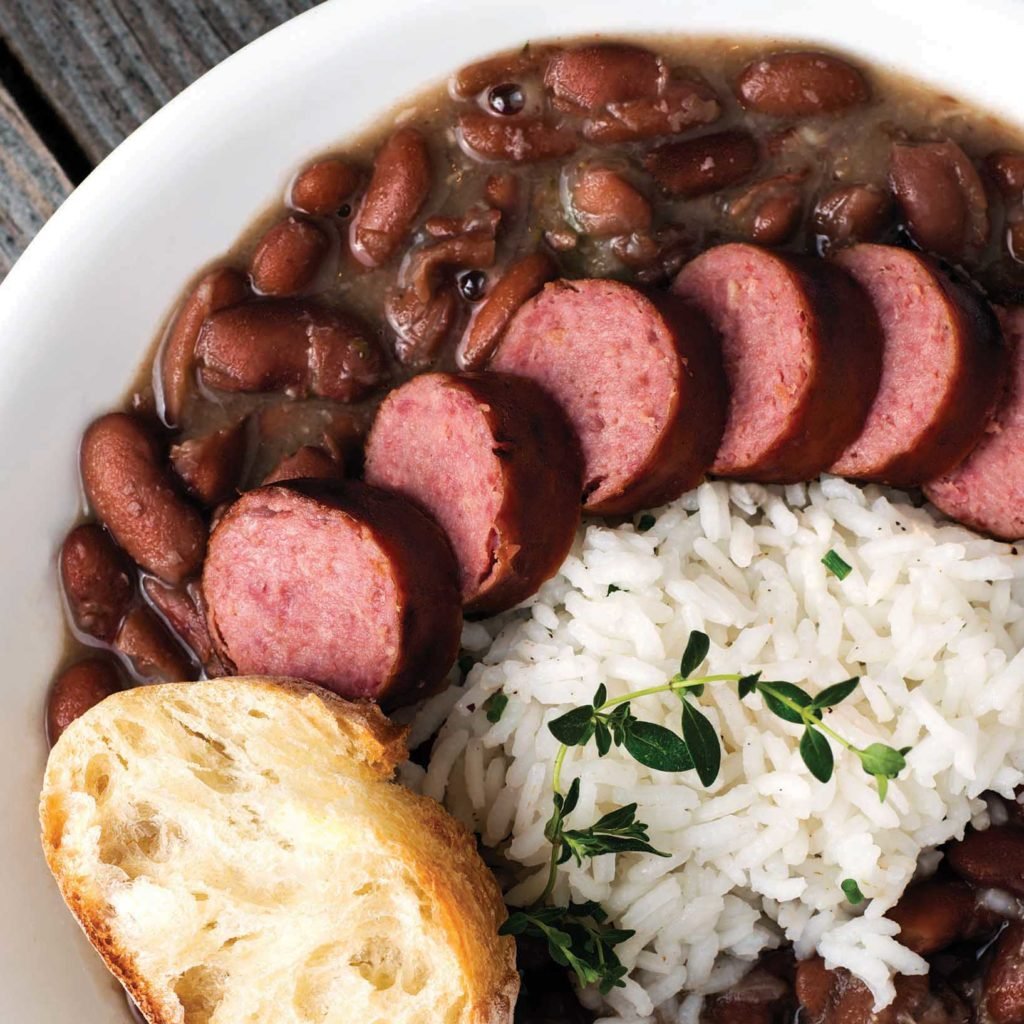 Back in 2014, I had the opportunity to talk red beans and rice with award winning author Kit Wohl. At the time when we talked, her cookbook New Orleans Classic: Creole Recipes by Pelican Publishing was just released. The cookbook featured recipes from chefs at Galatoire's, Antoine's, Arnaud's, Mr. B's Bistro, Café Reconcile, Commander's Palace, and Upperline. The recipes in the book included some of the most iconic Creole recipes from New Orleans such as Shrimp Creole, Sausage and Chicken Gumbo, and Pot au Feu, and sides such as Cheese Grits, Fried Green Tomatoes with Shrimp Remoulade, and Crabmeat Ravigote.
New Orleans Classic: Creole Recipes also included the red beans and rice recipe that you'll find below. Kit Wohl was gracious enough to share the recipe with me back when the book was first published. She also added this:
"Monday in New Orleans is to red beans and laundry as Monday in Boston is to baked beans and laundry. We serve red beans and rice alongside fried chicken, hot or andouille sausage, or pork chops. The beans have been simmered with ham bones and slow cooked for hours.

We like to prepare a double recipe and freeze half.

Any leftover red beans, should there ever be such a thing, can create a rich soup when mashed, chicken stock added, warmed, and topped with finely chopped onion, shredded Cheddar cheese, and browned, sliced sausage. Red beans also anchor an especially delicious omelet dressed with cheese, onions, and sliced sausage.

Louis "Satchmo" Armstrong signed his letters "Red Beans and Ricely Yours," in an affectionate nod to his hometown. We return the favor each year and celebrate Satchmo Fest in the French Quarter. When fans fly in, they touch down at the Louis "Satchmo" Armstrong airport.

While New Orleanians dine extravagantly on occasion, we also relish a great plate of jambalaya, red beans and rice, gumbo, fresh seafood, and other recipes traditionally stirred up in local kitchens.

This recipe is subject to as many interpretations as there are Creole cooks. Some cooks soak the beans overnight, some do not soak at all. Soaking decreases the cooking time. Red beans freeze very well, so save any leftovers."
Thank you Kit Wohl for allowing me to share this recipe!
What are your favorite cookbooks from Kit Wohl? I love the New Orleans Classics: Seafood cookbook. It's full of great seafood recipes from some amazing chefs around New Orleans. I love the Shrimp Creole and the Seafood Gumbo. Her books are definitely worth checking out if you haven't done so already.
Enjoy this wonderful red beans and rice recipe!
Kit Wohl's Red Beans and Rice
Ingredients
2

pounds

dried red beans

rinsed and soaked overnight

2

smoked ham hocks

1

bottle Abita Amber or similar beer

1

white or yellow onion

chopped

1

green bell pepper

chopped

2

stalks celery

chopped

1/2

cup

chopped parsley

10

cloves

garlic

finely diced

1

teaspoon

dried oregano

2

teaspoons

dried thyme

4

bay leaves

2

tablespoons

Worcestershire sauce

2

tablespoons

liquid smoke

3-

inch

cinnamon stick

1

teaspoon

freshly ground black pepper

1

teaspoon

white pepper

1/2

teaspoon

cayenne pepper

two 2-inch pieces of salt pork

blanched for 5 minutes in boiling water
Instructions
In a large stockpot, combine the beans, ham hocks, beer, vegetables, herbs, seasonings, and salt pork. Add one gallon of water to the pot (add more if the water does not cover the ingredients by at least 2 inches) and bring the water to a boil. Reduce the heat to a simmer and cook for 3 hours or until the beans are soft.

In a frying pan, brown the sausage and add to the finished red beans.

If you want a creamier texture, scoop out some of the beans using a slotted spoon, mash them, and return them to the pot. Cook the bean mixture for an additional 15 minutes and serve it over cooked white rice, heated, in shallow bowls.
To learn more about Kit Wohl, be sure to check out my How Do You Red Bean? interview with her by clicking the picture.
---
The photo of red beans and rice is credited to: Kit Wohl/Sam Hannah
---
Thank you for reading!
If you enjoyed this article, please subscribe to the Red Beans & Eric Newsletter so you don't miss a recipe, interview, or review. By signing up, I'll send you a free e-cookbook that includes some of the most popular recipes from the website.
You can always stay in touch with me by leaving a comment in the section below, by clicking here or messaging me on any of the social media sites that I am on.
Thank you for stopping by!
Keep the red beans cookin'!
Eric
Eric Olsson is the food blogger of RedBeansAndEric.com. He publishes new recipes and interviews weekly. He has developed recipes and written articles for the famous Camellia brand in New Orleans, Louisiana. He has been mentioned in Louisiana Cookin' magazine and has had recipes featured in Taste of Home magazine – with his Creole Turkey recipe being runner up in their annual Thanksgiving recipe contest. He lives outside of Detroit, Michigan, with his wife and four children.