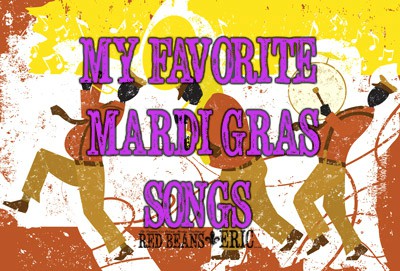 Play somethin' for me mister!
That line brings back a lot of memories of my days working at a radio station in Detroit. I was the producer of two-weekend call-in request shows at our once oldies station – like in oldies from the 1960s to late 1970s. We'd even play a few songs from the 1950s if asked. But then again it was a long time ago when I worked there, like before the 1980s were considered old. Both of the request shows were four hours long and jam-packed with long-distance dedications, plenty of food, and like I mentioned, lots of great memories. I was even fortunate enough to fill in on-air when needed. I miss those days and think about them often.
When I do get to 'deejay' today (if the wife and kids let me), is when I'm cranking out a playlist from my iTunes. One of my favorite lists to play is my set of Mardi Gras songs that I tend to turn up quite loudly and quite often – even 'out-of-season'. Here, I compiled ten of my favorite themed tunes in no particular order along with a day after Mardi Gras Day lagniappe song.
To kick this list off is one of my ALL TIME favorite songs: Tipitina by Bo Dollis and the Wild Magnolias. Now, this version is different than Professor Longhair's Tipitina so don't be confused when the trumpets start playing and they start singing about waking up early and going to the Mardi Gras. I can listen to this song over, and over, and over, and over… I hope you enjoy a few of my favorite Mardi Gras songs!
Coming up next, we'll take a look at your weather and traffic at Detroit's good-time oldies station…. bah.
---
"Tipitina" by Wild Magnolias.
"Hey Pocky Way" by the Meters
"Meet De Boys On De Battlefront " by The Wild Tchoupitoulas
"Iko Iko (Jock-A-Mo)" by Sugar Boy Crawford
"Indian Red" by Treme Brass & Indian Band
"Mardi Gras in New Orleans" by Professor Longhair
"Carnival Time" by Al Johnson
"Big Chief" by Dr. John
"Street Parade" by Earl King
"All On Mardi Gras Day" by Wild Magnolias
"Mardi Gras in New Orleans" by Big Sam's Funky Nation
---
And for the lagniappe song for the day after Mardi Gras: 'The Day After Mardi Gras Day' by Alex McMurray.
What do you think of the list? What are your favorite Mardi Gras songs? Let us know in the comment section below.
---
THANK YOU FOR READING!
If you enjoyed this article, please subscribe to the Red Beans & Eric Newsletter so you don't miss a recipe, interview, or review. By signing up, I'll send you a free e-cookbook that includes some of the most popular recipes from the website.
You can always stay in touch with me by leaving a comment in the section below, by clicking here or messaging me on any of the social media sites that I am on.
Thank you for stopping by!
KEEP THE RED BEANS COOKIN'!
ERIC